Bragg Symposium:
Celebrating 100 years of X-Ray Crystallography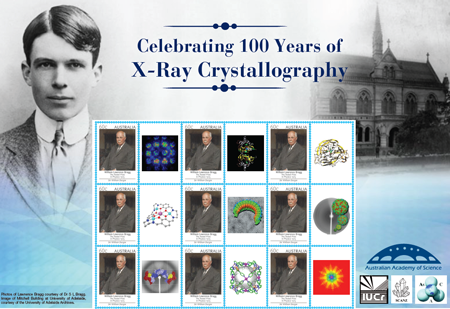 "The special Lawrence Bragg Souvenir Stamp Sheets displayed here have been produced by Australia Post for SCANZ. These will be available for purchase at the AsCA/CRYSTAL and Bragg meetings for $12.00 incl GST per sheet.  A limit of 5 sheets per registrant will apply at the meetings.
For larger orders, please contact Dr Alison Edwards scanztreas@gmail.com indicating your request.
Ability to meet such requests will depend on availability. There may be an additional charge for mailing.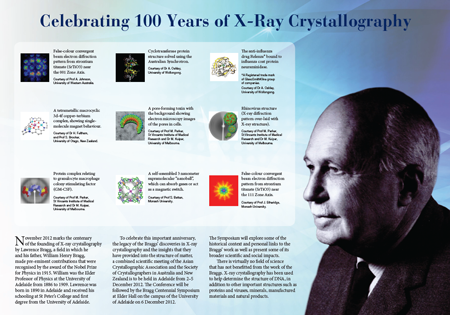 6 December 2012
To be held at the Elder Hall, University of Adelaide, South Australia 
Bragg Symposium Planning Committee

Prof John Carver

University of Adelaide

Dr Peter Colman

Walter & Eliza Hall Institute

A/Prof John Jenkin

La Trobe University

Dr Rob Robinson

ANSTO

Dr Steve Wilkins

CSIRO
Invited speakers include:
Prof Anthony Kelly (Univ. of Cambridge)

Prof Brian Matthews (Univ. of Oregon)

Dr John Jenkin (author of "William and Lawrence Bragg, Father and Son: The Most Extraordinary Collaboration in Science")                    

Prof Thom Mason (Oak Ridge NL)

Prof Anthony Cheetham (Univ. Cambridge/UC Santa Barbara)

Prof Anders Liljas (Univ. of Lund)

Prof Colin Humphreys (Univ. of Cambridge)

Prof John Spence (ASU/UC Berkeley)

Prof Wayne Hendrickson (Columbia University)

Mrs Patience Thomson (younger daughter of Sir Lawrence Bragg)